Biomass heating & hot water energy saving solutions
Biomass Commercial low cost carbon friendly energy generating for todays modern businesses
Business owners who are looking to reduce energy costs and their carbon footprint, will benefit enormously from installing Biomass driven heating and hot water systems. Like their solar PV equivalent, they also have a UK Government scheme (The Renewable Heat Incentive), which provides generous index-linked payments to business owners and investors who install and run renewable energy systems
Biomass is a clean and sustainable fuel source
Biomass is todays name for organic material that is used to produce clean and sustainable energy. Biomass comes from plant-based materials that are sourced from our forests, agricultural and dedicated energy crops. By using these products we can produce energy that is close to carbon neutral.
Why should you use a biomass system within your business?
Biomass is an excellent alternative to costly fossil fuels, it can be used to heat hot water and also heat small offices to large factories, saving you up to 60% on your energy bills.
Biomass is clean power generation and is already the fourth-largest energy resource across the globe. It provides low energy costs and excellent financial returns from the UK Governments Commercial RHI and the more you use the system the more you will earn in subsidies from the Renewable Heat Incentive scheme which provides index linked payments to you for 20 years
There are a range of boilers that will suit every requirement including a 60kW plug and play hot air blower system that is ideal for factories and warehouses, it will pay for itself in three years.
Organic low cost energy: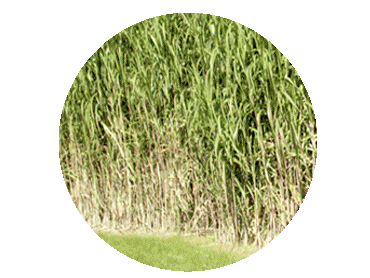 Commercial biomass installations by investors
We have investors who will pay for the boiler installation in return for the RGI payments, by using this method you will benefit from cut price heating bills. For further information on how you can benefit from a Biomass heating system for use within a commercial establishment please contact us for details.
Downloads
Abbey Energy Free Commercial Biomass.
Biomass the fuel source
Miscanthus or "Elephant Grass".
Wood Pellets.
Wood Chips.
Logs.
Grain "dedicated energy crops".
Food Residues.
Download Biomass fuel procurement guide.
Biomass boilers come with with generous government provided incentive schemes for business owners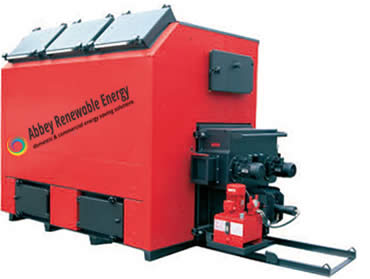 Biomass Airflow
The AIRFLOW is a self-contained, compact air handling system that produces hot air for space heating. The AIRFLOW system is fuelled by wood pellets and is specifically designed for use in Warehouses and Industrial Units for the provision of heating and frost protection.
The modular unit is mounted on a steel pallet for easy siting and has an optimum coverage area of 240-270m2. The AIRFLOW air handling unit is equipped with an ambient air temperature thermostat that will modulate the boiler output to obtain the desired room temperature range of 5-25°C.
Download Abbey Energy 50kW air handling unit pdf